This post is from the JMBzine Blog Vault, which means it is a very old blog post that I wrote at a very different time of my life. My views on religion (I'm now a Humanistic Jew), politics (today I'm a democratic socialist), and many other subjects (LGBTQ+ inclusion, abortion rights, etc.) have drastically changed over the years, so please bear this in mind when reading this post.
Tuesday, September 18, 2001
---
10:33 pm
The Christian Science Monitor has its own blog, Monitor Blog
---
6:22 pm
Where were you? – an excellent homily from St. Thomas Aquinas church
---
6:19 pm
Here's another of Bush's moments of linguistic brilliance (not)…"A wrathful. shadowy, inventive war."
(2022): I searched the phrase and found it in this NYT article "AFTER THE ATTACKS: THE WHITE HOUSE; Bush Warns of a Wrathful, Shadowy and Inventive War"
Strangely, Bush was actually accurate about some aspects of the wars that would be coming…
A day after proclaiming flatly that the nation was "at war," President Bush and his senior advisers took pains to warn Americans today that it would be a war unlike any other, fought in the shadows, testing the patience of the public and leaders alike, but that nations failing to join the crusade would face the "full wrath of the United States," as Vice President Dick Cheney put it.

"This is a new kind of evil," Mr. Bush said at the White House after a weekend war council with senior aides at Camp David, "and we understand, and the American people are beginning to understand, this crusade, this war on terrorism, is going to take a while, and the American people must be patient."

"We will rid the world of the evil-doers," Mr. Bush said, adding a moment later, "They have roused a mighty giant, and make no mistake about it, we're determined."

As if to acknowledge the surreal sense of both tumult and Sunday calm in the capital, Mr. Bush added: "Oh, there will be times when people don't have this incident on their minds; I understand that. There'll be times down the road where citizens will be concerned about other matters, and I completely understand that. But this administration, along with those friends of ours who are willing to stand with us all the way through, will do what it takes to rout terrorism out of the world."
It is horrifying to see how absurd this whole thing was. The US obviously did not "rid the world of evil-doers" and it did not "rout terrorism out of the world." But he did send a message to the Islamic world that he was on a "crusade" (his word), which frankly has continued to cause us grief to this day, pouring even more fuel on the fire of religious fundamentalism.
But… Bush did manage to fight a war in the shadows. He accomplished that.

---
6:14 pm
Here is a news bulletin from a pirate station in Sioux Falls, SD:
FOR IMMEDIATE RELEASE
IN AN UNPRECENDETED MOVE AGAINST FREE RADIO , KJAL WAS SEIZED THIS WEEK BY THE FCC, THE SEIZURE COMES AS NO SURPRISE. BUT HOW THE SEIZURE TOOK PLACE IS VERY UPSETTING.

DURING A REMOTE BROADCAST IN SIOUX FALLS THIS WEDNESDAY, KJAL WAS SEIZED BY TO FCC AGENTS DISGUISED AS RESIDENTS OF SIOUX FALLS, DURING A REMOTE BROADCAST TO BENEFIT THE RED CROSS FOR THE VICTIMS OF NEW YORK, THE DECISION WAS MADE TO USE DONATED CRAFTS TO PRODUCE RED WHITE AND BLUE RIBBONS AND PINS TO SELL FOR 1.00 APIECE AT THE MALL PARKING LOT, WE HAD RAISED AROUND 300.00 BY TEN A.M. AND HAD JUST CALLED THE RED CROSS TO COME AND PICK IT UP FROM US, AT 10:20 AM THE FCC AGENTS CAME UP TO US TO "BUY A RIBBON OR TWO" AND IT WAS OVER VERY QUICKLY, WE HAD NO TIME TO GET HELP, THEY DID NOT GET THE STUDIO BECAUSE OUR ENGINEER WAS ABLE TO CUT POWER , BUT THEY DID GET THE TRANSMITTER THE REMOTE VAN AND THE REMOTE EQUIPMENT, AND WE ARE DEEPLY SADDENED TO REPORT THEY ALSO TOOK THE 300 BUCKS, WHEN THE RED CROSS SHOWED UP 30 MINUTES LATER WE JUST CRIED, HOW COULD A GOVERNMENT THAT WANTS TO PROTECT OUR WAY OF LIFE DO THIS

WE ARE ASKING ALL PEOPLE THAT BELIEVE IN THE FREEDOM IN AMERICA, TO HEAR OUR PLEA

WE ARE ASKING FOR A DONATION FROM ANY SOURCE AS FOLLOWS

20 WATT TREANSMITTER AND POWER SUPPLY (CAN BE BUILT OR DONATED) NOTHING FANCY

PLEASE HELP US IF ANYONE KNOWS WHAT TO DO OR KNOWS SOMEONE WHO CAN

THANK YOU AND GOD BLESS AMERICA

PS THE TOWER WAS CONFISCATED BUT A NEW ONE HAS GONE UP, AND THERE IS A AMERICAN FLAG FLYING AT THE TOP, BUT THE STUDIO REMAINS SILENT TODAY!
(2022): Unfortunately I couldn't find anything about this pirate station online today.
---
6:03 pm
From MNSBC: ID Cards weighed by Congress: Fewer visas, biometric database are also under discussion
---
5:54 pm
Here is the rough draft to my column Pacifist Ammo that will run soon in the Universitystar.com
Pacifist Ammo #2
By James M. Branum
(Mass Communications graduate student)

It has been a week since we woke up to the news that hijacked airliners had crashed into two of America's signature landmarks. Despite the massive news coverage of the events, somehow it still seems like a dream, or rather a nightmare that we'll wake up from and find is not real.

In this surrealistic but very real world, we must come to grips with the concept that the old paradigms do not work anymore. This may not be "the first war of the twenty-first century" (as Bush mistakenly said), but it is a new kind of war, unlike any ever fought before. We can not assume that Bush's "war against terrorism" will be a sanitary high-tech battle like Desert Storm. Everything indicates that this will be a long protracted war on multiple fronts, including on American soil.

Tragically, I think the US is gearing up to fight a war that we will lose. Afghanistan (with US equipment and training) beat the Soviet Union in the 80's in a time when the Soviet military was the world's finest. Today, the situation is even more grim with the ready availability of chemical and biological weapons and bin-Laden's lack of restraint in using the most horrific methods of war possible.

In light of a possible full-scale war against Afghanistan and other countries deemed to be supporting terrorism, it is time for all Americans to consider what they believe about war in preparation for a possible military draft.

Admittedly, the likelihood of a draft in the near future is slim. However, the world is changing fast and what seems impossible today may be the future. (Nine days ago, who would have thought that highjacked airplanes would be used to level the World Trade Center?)

If a draft were instituted, the Selective Service System would rapidly gear up to deliver the first inductees to the military within 193 days. Current law applies to men ages 18 through 25, but in a crisis the ages and gender of persons drafted could be changed by Congress.

If you do not believe in war, or are uncertain whether you would feel right about fighting in this war, you must act now to protect your right to not fight.

Under current law, there are two kinds of conscientious objectors recognized by Federal law, classifications 1-0 and 1-A-O.

Draft classification 1-0 are given to persons "conscientiously opposed to both types (combatant and non-combatant) of military training and service." If you are classified as 1-0, you will be given an assignment as a civilian alternative service worker, working in conservation, caring for the very young or very old, education, or health care for a period of time that corresponds with a military service commitment. (Most likely 24 months)

To be classified 1-A-0, you must prove that you are "conscientiously opposed to training and military service requiring the use of arms." 1-A-0's serve in non-combatant roles in the military, but will not be assigned training or duties that include using weapons.

Under current Federal law, Selective Conscientious objectors (whose beliefs would not permit them to fight in an "unjust" war, but could fight in a "just" war) are not exempt from the draft. Federal law specifically denies objection to participation in war based on "political, sociological, or philosophical" views.

In the case of a draft, conscientious objectors will have very little time (as few as nine days) to document their CO claim after receiving their induction order. Now is the time to think through the basis of your claim before the draft begins, and to document them.

At this time, one of the best ways to document your CO views is to complete a simple three question worksheet prepared by the Center for Conscience & War (NISBCO). The questions are as follows:

1. Describe the beliefs which are the basis for your claim as conscientious objector. If appropriate, state whether those beliefs would permit you to serve in a noncombatant position in the armed forces, or pay taxes for war.

2. Describe how you acquired these beliefs.

3. Describe how your beliefs affect the way you live and the type of work you do or plan to do.

Once you've completed this worksheet, sign and date it. (Or better yet, have your signature notarized.) Then keep a copy for yourself, and mail a copy to the Center for Conscientious and War. (They can be contacted at www.nisbco.org.) You may also want to ask your pastor, a spiritual leader, or another person who knows of your moral/ethical beliefs to write a letter of recommendation to go with your personal statement.

Selective CO's would be advised to document their views as well in case the law changes. However, if the draft goes into effect under the current guidelines, selective CO's will be faced with a difficult decision; to fight in a war they don't believe in, to refuse to fight and go to prison, or to leave the country.

Conscientious objection is a serious decision. Standing up as a CO will require courage and possibly jail time if your claim is rejected. You won't be deemed a hero by society, or given a ticker-tape parade when the troops come marching home. However, you will be joining a long tradition of men and women who stood up for their convictions throughout history.

For more information on the draft, read "Military Draft a possibility if war escalates" in the September 18th edition of the University Star, or visit the SSS website at www.sss.gov.
(2023): While conscription didn't happen (and hopefully never will in the future), I've continued to be involved in advocacy on the issue of #ConscientiousObjection in the years since 2001, mostly through my work
---
5:48 pm
WTC-filter – articles and links relating to the 11 september attack on the world trade center
www.think-peace.org – a collaborative pacifist blogger
---
5:18 pm
ok, here is my reply to Bob Jone's query (see post below)…
1. Why am I a conscientious objector?
Because I am a follower of Jesus Christ, and as such try (not very successfully because I'm human and a sinner) to live like he did. He lived a life of non-violence. (The closest thing you'll find to him using violence is when he threw out the money changers from the temple, and even then he didn't use lethal force.) Here are a two quotes of Jesus that articulate what I believe to be his philosophy concerning violence…
Matthew 5:9 – "Blessed are the peacemakers, for they shall be called sons of God."
Matthew 5:38-42 – "You have heard that it was said, 'AN EYE FOR AN EYE, AND A TOOTH FOR A TOOTH.' But I say to you, do not resist an evil person; but whoever slaps you on your right cheek, turn the other to him also. If anyone wants to sue you and take your shirt, let him have your coat also. Whoever forces you to go one mile, go with him two. Give to him who asks of you, and do not turn away from him who wants to borrow from you."
2. Do I think terrorism is wrong?
I think my response to question one should answer that.
3. What besides waging war with terrorists do you think will work to keep people save around the world and to stop acts of terror against innocent lives?
Several things. First, we need to disengage from situations where we are contributing directly to the development of terrorism. We need to quit training terrorists and giving them weapons.
Secondly, we need to pursue true justice on those responsible. Osama bin Laden (assuming the evidence shows him to be responsible) and any who have assisted him in terrorism needs to be captured and brought to stand trial in the USA for what they has done.
Three, we need to combat the poverty and ignorance that is the breeding ground of terrorism.
Last of all, we as Americans must continue to be a beacon of freedom for the rest of the world. We must rebuild the WTC but this time taller than it was before. The artists need to paint, the writers need to write, the carpenters need to build, the mothers and fathers raise their children. We must carry on, and carry on to live lives of love.
Bob, I hope I answered you sufficiently. If not, please email me back or post to the guest book again. I appreciate you contacting me and forcing me to articulate what I believe.
---
5:18 pm
Just got this message via the JMBzine.com guestboard from someone named Bob Jones (no email address given):
As a proclaimed conscientious objector I feel you owe this country and explanation.

Can you please post on your web site why you have chosen conscientious objector.

Part two of my request is a two part questions:

1.) Do you think Terrorism is wrong?

2.) What besides waging war with terrorists do you think will work to keep people save around the world and to stop acts of terror against innocent lives?

I believe if you will not stand up and fight against terrorism then you should, as an America, offer another "workable" solution.

If you do not and simply want to live and feed off the freedom provided to you by the lives of other Americans then I must ask you to please leave our country.

I hope you do not take offense at my statement but understand where I am coming from.

Thanks and I look forward to your response.
I want to give this question some thought, but I will post a reply later today.
---
4:19 am
I found a story on Liane Balaban who played Moonie Pottie in New Waterford Girl.
Also I found out that Liane co-hosts the show "Loungecore" on 2kool4radio.com.
---
4:05 am

On a happier note, I saw the coolest movie this evening on TV. New Waterford Girl. I haven't laughed so hard in a long time, and my oh my that girl she is so stinkin' cool. I think I've fallen in love. (ok, not really but this girl is pretty cool) No doubt about it, self-confidence in a girl is the biggest turn-on in the world for me.
Oh, the movie is directed by Allan Moyle who also directed Pump up the Volume and Empire Records.
(2022): That movie is a classic. It's hard to find, but if you can, watch it.
Also… in hindsight, my use of the word "girl" to refer to a young adult woman was unfortunate.

---
3:57 am
If you're considering enlisting in the US armed forces, read this first.
---
3:35 am
Plumes of smoke pour from the World Trade Center buildings in New York Tuesday, Sept. 11, 2001. Planes crashed into the upper floors of both World Trade Center towers minutes apart Tuesday in a horrific scene of explosions and fires that left gaping holes in the 110-story buildings. The Empire State building is seen in the foreground. (AP Photo/Patrick Sison)
(It is so strange to see this image. In July I was on top of the Empire State Building taking pictures and I remember the WTC standing out as one of the main landmarks in the downtown skyline. And now it's gone…)
---
3:23 am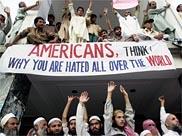 AP – In Pakistan's capital, Islamabad, pro-Taliban demonstrators protested against any possible American action in neighboring Afghanistan.
(IMHO, that sign is a pretty powerful statement.)
---
2:55 am
If the US goes to war, it is essential that all men of draft age give serious thought to the possibility of being drafted. My mind is made up. I'll go when hell freezes over, but if you are uncertain or want more information on what it means to be a conscientious objectors visit www.nisbico.org, the Center on Conscience & War (NISBCO). Also, if you need assistance on documenting your CO status please email me at jmb@jmbzine.com. (Bear in mind that I can not legally give you legal advice.)
---
2:00 am
Thank God for Blogger for getting out the word about www.sharedvoice.org. If you hear anything that I've said in this blog, PLEASE go to www.sharedvoice.org. If you agree with it, sign the petition. Time is of the essence to stop the possibility of millions of innoucent people being slaughtered in the name of vegeance.
---
1:54 am
I got this from the Vagrantcafe messageboard
Special report: Terrorism in the US
Seumas Milne
Guardian

Thursday September 13, 2001

Nearly two days after the horrific suicide attacks on civilian workers in New York and Washington, it has become painfully clear that most Americans simply don't get it. From the president to passersby on the streets, the message seems to be the same: this is an inexplicable assault on freedom and democracy, which must be answered with overwhelming force – just as soon as someone can construct a credible account of who was actually responsible.

Shock, rage and grief there has been aplenty. But any glimmer of recognition of why people might have been driven to carry out such atrocities, sacrificing their own lives in the process – or why the United States is hated with such bitterness, not only in Arab and Muslim countries, but across the developing world – seems almost entirely absent. Perhaps it is too much to hope that, as rescue workers struggle to pull firefighters from the rubble, any but a small minority might make the connection between what has been visited upon them and what their government has visited upon large parts of the world.

But make that connection they must, if such tragedies are not to be repeated, potentially with even more devastating consequences. US political leaders are doing their people no favours by reinforcing popular ignorance with self-referential rhetoric. And the echoing chorus of Tony Blair, whose determination to bind Britain ever closer to US foreign policy ratchets up the threat to our own cities, will only fuel anti-western sentiment. So will calls for the defence of "civilisation", with its overtones of Samuel Huntington's poisonous theories of post-cold war confrontation between the west and Islam, heightening perceptions of racism and hypocrisy.

As Mahatma Gandhi famously remarked when asked his opinion of western civilisation, it would be a good idea. Since George Bush's father inaugurated his new world order a decade ago, the US, supported by its British ally, bestrides the world like a colossus. Unconstrained by any superpower rival or system of global governance, the US giant has rewritten the global financial and trading system in its own interest; ripped up a string of treaties it finds inconvenient; sent troops to every corner of the globe; bombed Afghanistan, Sudan, Yugoslavia and Iraq without troubling the United Nations; maintained a string of murderous embargos against recalcitrant regimes; and recklessly thrown its weight behind Israel's 34-year illegal military occupation of the West Bank and Gaza as the Palestinian intifada rages.

If, as yesterday's Wall Street Journal insisted, the east coast carnage was the fruit of the Clinton administration's Munich-like appeasement of the Palestinians, the mind boggles as to what US Republicans imagine to be a Churchillian response.

It is this record of unabashed national egotism and arrogance that drives anti-Americanism among swaths of the world's population, for whom there is little democracy in the current distribution of global wealth and power. If it turns out that Tuesday's attacks were the work of Osama bin Laden's supporters, the sense that the Americans are once again reaping a dragons' teeth harvest they themselves sowed will be overwhelming.

It was the Americans, after all, who poured resources into the 1980s war against the Soviet-backed regime in Kabul, at a time when girls could go to school and women to work. Bin Laden and his mojahedin were armed and trained by the CIA and MI6, as Afghanistan was turned into a wasteland and its communist leader Najibullah left hanging from a Kabul lamp post with his genitals stuffed in his mouth.

But by then Bin Laden had turned against his American sponsors, while US-sponsored Pakistani intelligence had spawned the grotesque Taliban now protecting him. To punish its wayward Afghan offspring, the US subsequently forced through a sanctions regime which has helped push 4m to the brink of starvation, according to the latest UN figures, while Afghan refugees fan out across the world.

All this must doubtless seem remote to Americans desperately searching the debris of what is expected to be the largest-ever massacre on US soil – as must the killings of yet more Palestinians in the West Bank yesterday, or even the 2m estimated to have died in Congo's wars since the overthrow of the US-backed Mobutu regime. "What could some political thing have to do with blowing up office buildings during working hours?" one bewildered New Yorker asked yesterday.

Already, the Bush administration is assembling an international coalition for an Israeli-style war against terrorism, as if such counter-productive acts of outrage had an existence separate from the social conditions out of which they arise. But for every "terror network" that is rooted out, another will emerge – until the injustices and inequalities that produce them are addressed.
---
12:36 am
Spaceimaging.com's gallery of WTC and Pentagon pictures (Interestingly enough, Spaceimaging has a ground station in Newcastle, OK. (The town I grew up in.) Spaceimaging.com's website says its in Norman, but it is actually in Newcastle city limits.
---
12:30 am
3D animated image of the WTC site from the Washington Post
---
12:07 am
Bush visits Mosque; Urges respect for Muslims
---
12:02 am
NY Times Magazine: Special Edition on the Aftermath of the Terrorist Attack